KIMBERLY DURAN
ALEXANDRA SCOTT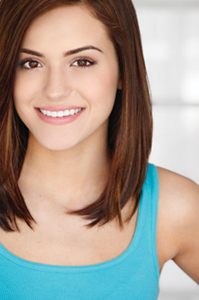 Alexandra plays a popular sexy mean girl and frenemy to Briana as, "Kimberly Duran," in NUNE.
ALEXANDRA SCOTT is an American actress, known for THE BOLD AND THE BEAUTIFUL, CATFISH: THE TV SHOW and  MARGAUX IN AMERICA.
She grew up in Houston, Texas with her family and spent a year living on the west coast of Africa in Accra, Ghana. This experience made her love travel and she enjoys exploring new cultures.
Scott is inspired by actress Dakota Fanning for her offbeat projects and genuineness in her work. Acting for Scott is more than just a commercial endeavor; she craves roles that explore her acting abilities. Her passions also include ballet and swimming. She considers herself a "water baby" and is a certified scuba diver. Scott is represented by Clear Talent Group.